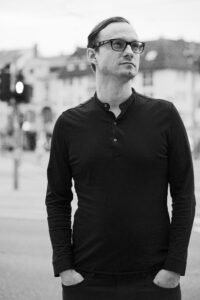 Inspired by composers like Bernard Herrmann, Jerry Goldsmith and John Williams, Sascha started his career with composing music for short films by film students.
In his state-of-the art recording studio he composes original scores that ranges from full orchestra to intimate small ensembles and also electronic scores. His music has been published by Sony/ATV, EMI, Music Sculptor, Earmotion, Gramoscope Music and the Emmy nominated team from Extreme Music. Sascha's music has been placed on many television shows such as on NBC, ITV, BBC, Channel 4, RTL, ARD and NDR.
Recently, Sascha has written music for The Running Man 2020 directed by BAFTA Award winning director Jonas Grimas. In television, he composed music for NDR's nature documentary Romantic Rivers and Tele 5's The Dingens Show, a comedy show starring Kirstin Warnke and Frank Elstner. His compositions can also be heard on numerous commercials for TV and internet campaign such as Mercedes Benz, eBay, Mister Spex and Asam Beauty.
In 2019 Sascha composed the music for the romantic comedy Tell Me I Love You directed by Fiona Mackenzie starring Kaniehtiio Horn, Pauline Cerilla, Sam Clark and Al Sapienza. The film is available on VOD and DVD. Furthermore, he worked on They're Outside directed by Anthony Hayles and Sam Casserly starring Nicholas Vince, Tom Wheatley, Emily Booth and Chrissy Randalll. The film premiered at the 2020 Fright Fest in London.
His approach for scoring a film is driven by finding the most suitable musical language for the film's plot, which is why each of his work sounds so unique and colourful in its own way. Depending on the project he has recorded soloists, ensembles and orchestras to ensure the best possible result.
Raised in a musician's family, Sascha began to study classical piano at the age of 8. After finishing high school he continued to study piano, music theory and composition at the University of Music and Theatre Rostock where he analysed the early music of the 15th century up until the late romantic period, jazz and film composers of the 20th century which enables him to compose in a huge variety of styles. During this time he also played piano in jazz, pop and rock bands, which influenced his writing for film further.
Coming from a classically and pop/world musically trained background, he enhanced his musical knowledge during various film scoring programs. Sascha attended the London College of Music to study the Master of Composition for Film and Television, which he passed with distinction. Furthermore, he participated in several masterclasses and workshops with Danny Elfman, Conrad Pope, Nan Schwartz, TJ Lindgren and William Ross.
Furthermore, Sascha composed the music for Mentally Apart, a thrilling drama by Joe Pomarico. The original musical score won at the Los Angeles Motion Picture Awards, Los Angeles Film Awards and New York Film Awards in 2020.
Currently, he lives in Cologne where he just finished working on an album for EMI PM.